Driveway Cleaning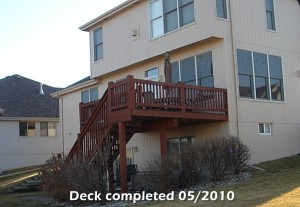 Are old, dirty-looking driveways marring the appearance of your home or commercial property? If you're tired of your driveway or parking lot giving off the wrong impression about your property, you can call on the driveway cleaning professionals at Omaha Extreme Power Washing and Staining. Serving Omaha and the nearby area, we're here to offer you high-quality pressure washing services that will keep your driveway looking great. If you're ready to get your driveway clean, call or email us today to learn more about our power washing services. We can't wait to help you improve the appearance and condition of your driveways and parking lots!
While driveways can be attractive elements on your property, they're also functional, and that means they're exposed to quite a bit of wear and tear. Over the years, dirt, mildew, and mold can build up on your driveway, leaving you with an unsightly mess. Fortunately, pressure washing service from Omaha Extreme Power Washing and Staining can wash away years of grime from your driveway. When you turn to us for pressure cleaning services, you'll get nothing short of superior results. Our licensed, bonded, and insured technicians use all eco-friendly products, and we're happy to use our own water supply or yours when we provide you with driveway cleaning service.
Dependable Driveway Cleaning Services
While you may be thinking that driveway cleaning is something you can take on yourself, the truth is it's no easy feat to pressure wash a driveway. Without the appropriate equipment or training, you could end up expending all your energy for a very mediocre result or even damaging your pavement in the process. For a truly clean driveway, your best bet is to hire a professional for pressure washing services.
When you choose to work with Omaha Extreme Power Washing and Staining, you can rest easy knowing that you're going to get first-rate driveway cleaning services. We have 14+ years of experience providing pressure cleaning services to locals, and all of our work is backed up by a 2-year labor guarantee. If you want power washing services done right, we're the name to know in the Omaha area.
If you're ready to get rid of all the dirt and stains on your driveway, get in touch with Omaha Extreme Power Washing and Staining today. We will work hard to power wash your driveway and make certain it helps your property look great!