Deck Staining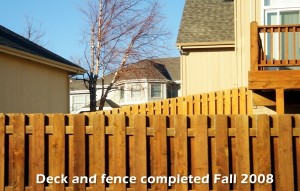 If you're lucky enough to have a deck at your home or place of business, you'll want to keep it in great condition. Because decks are exposed to the elements, they need maintenance from time to time, and deck refinishing and staining can really help you keep your deck looking its best. In the local area, you can turn to the pros at Omaha Extreme Power Washing and Staining for deck staining services. We're proud to offer superior deck restoration services for Omaha-area homes and businesses, so get in touch with us right away if you want to protect the beauty and functionality of your deck!
Whether you have a newly constructed deck that's in need of deck staining services for the first time or you have an old deck that requires deck restoration service, you can count on us to provide you with quality service from start to finish. If your old deck is discolored due to dirt and grime, we'll start by performing pressure washing services that will remove these imperfections. With a fresh, clean surface, we'll be able to offer you better quality deck refinishing.
Our wood deck restoration professionals are fully licensed, bonded, and insured for your peace of mind, and we have more than 14 years of experience providing deck staining services to local residents. If you're in the market for quality service and flawless results, then look no further than Omaha Extreme Power Washing and Staining.
Fence Staining Services
Have you recently installed a new fence that needs staining? Does your old, weathered fence need a fresh coat of stain to restore its former beauty? You can call on Omaha Extreme Power Washing and Staining for fence staining services. Our pros will work hard to preserve the look of your newly installed fence or to improve the appearance of your old fence. Whenever you need wood staining services, we are here to improve your property in Omaha and beyond. We're proud to offer a 2-year labor guarantee, so you can have complete confidence when you choose us as your staining company.
When you need a deck staining company you can count on to deliver superb results time and time again, Omaha Extreme Power Washing and Staining is the right choice. We're committed to providing you with effective fence and deck washing and staining, so call us right away to learn more!